Visit Donahue Dental for Teeth Cleanings in St. Charles, MO
In order to maintain a healthy smile, you should receive routine teeth cleanings from Donahue Dental of St. Charles, MO. Of course, you should be brushing your teeth twice a day and flossing daily, but the benefits of professional dental cleaning are unparalleled. Ideally, you should visit Donahue Dental twice a year for a checkup and cleaning. Prioritizing your oral health begins with committing to routine general dentistry appointments. These visits allow you to get up to date on your oral exams, be checked for periodontal disease, get any fillings, and of course, benefit from your twice-yearly cleaning. Regular teeth cleaning keeps your teeth shining pearly white and allows our dentists to ensure you are healthy. Contact us today to schedule your next teeth cleaning appointment.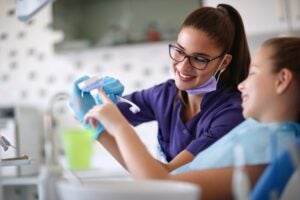 What to Expect from Professional Dental Cleanings
When you come into the Donahue Dental office for your biannual teeth cleaning and checkup, you prioritize your oral health. We can help you stay proactive by taking a preventative stance toward the health of your mouth. Each checkup involves professional teeth cleaning to remove any built-up plaque and tartar that you were unable to remove with your toothbrush at home. Then, we will conduct an extensive oral exam using our state-of-the-art technology. The exams help us identify any tooth decay, oral cancer, or symptoms of periodontal disease that need to be addressed. By coming in for these regular checkups and cleanings, we can spot these indications of oral disease and decay before they worsen. This protects your oral health and your wallet in the long run. We work hard to prevent you from suffering any preventable tooth loss or disease.
Benefits of Routine Teeth Cleaning
The benefits of professional teeth cleaning are plenty. When you get your teeth cleaned at Donahue Dental, we remove stains that dull and discolor your teeth better than your at-home toothbrush and toothpaste can. Our cleanings also help prevent gum disease and early tooth loss. During our thorough inspections, we identify any early signs of oral cancer or decay that could potentially progress and worsen. These cleanings and inspections also give us a close-up look at any broken or fractured fillings. Basically, professional teeth cleaning helps you obtain a whiter, brighter smile while also allowing us to evaluate the current state of your oral health. When we know what is going on in your mouth, we can take the proper steps to ensure we are doing the best for your health and hygiene moving forward.
Dental Cleaning Aftercare
After your biannual dental cleaning, you will leave our office feeling confident and ready to show the world your bright smile. While you're busy flashing your pearly whites, there are some aftercare instructions to remember. During your visit, one of our team members will talk to you about optimal oral habits to keep up at home. These include brushing twice a day and flossing daily, among others. Aside from maintaining a healthy oral routine, you may have to wait 30 minutes before eating or drinking if you receive a fluoride treatment. We will also provide you with instructions for any at-home whitening kits or upcoming procedures. Be sure to ask if you have any questions regarding how to best clean and maintain your teeth at home.
Contact Us Today for a Healthier, More Confident Smile
Take charge of your oral health today. Contact us here at Donahue Dental of St. Charles, MO to schedule your next teeth cleaning. We'd love to see you soon and again later this year to help you keep up the best possible oral hygiene habits. You deserve a smile that you are confident to show off. Let us help you achieve pearly whites you're proud of. We hope to see you soon!
We Offer
Digital Charting
Financing Options
Advanced Technology
Comprehensive Oral Care
Advanced Specialty Training
Diagnosis, Treatment Planning
Warm, Relaxed, Fun and Friendly Atmosphere