Dental Implants in St. Charles, MO
Prosthodontist serving St. Charles, St. Peters, and St. Louis, MO
Accidents or severe dental decay can lead to the loss of several teeth. If this happens, you may worry that your mouth may never look the same again. Further, the loss of teeth can make it more difficult to speak and eat on a daily basis. Thankfully, there is an effective and natural-looking solution to the aesthetic and functional problems lost teeth can cause. Dental implants are known for their ability to mimic natural teeth and help to support your mouth's structure. Here at Donahue Dental, our trusted St. Charles implant dentistry team provides informative consultations and dental implant procedures for individuals across the greater St. Louis, MO region. Get the best for your teeth, call our team at (636) 946-6117.
What Are Dental Implants?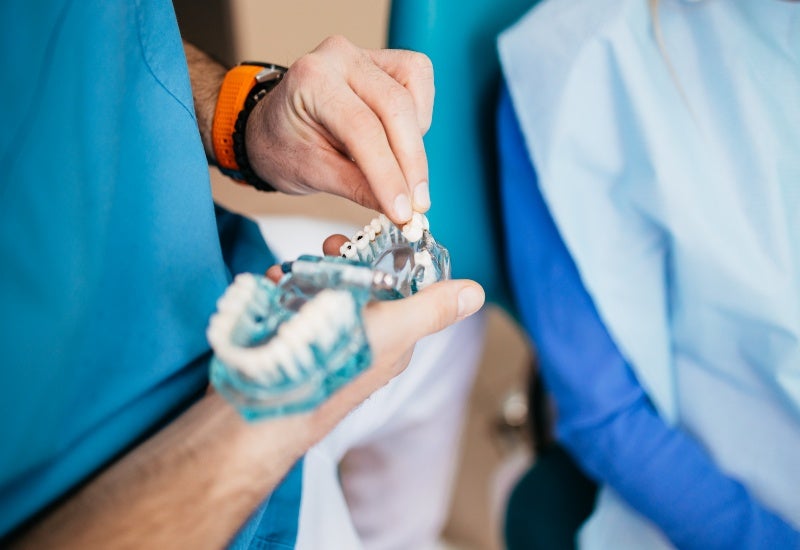 A dental implant is a surgically implanted fixture that is fixed to the jawbone and fuses with the bone over time. Dental implants act as replacements for the roots of missing teeth. Once dental implants are fixed, patients then receive replacement teeth made to look and function like regular teeth.
Dental implants differ from other types of cosmetic dentistry solutions because they have a more solid foundation, as they are placed into the bone. At Donahue Dental, our implant dentistry team may also use implants to support bridges and crowns, if deemed necessary. To learn more about our dental implant procedures and other services, schedule an appointment with our office today!
The Benefits of Dental Implants
For those who have lost teeth due to injury, illness, or other factors, a renewed smile can be the key to boosted confidence and better health. As an affordable, comfortable, and secure means of tooth replacement, dental implants are a great choice for patients of all ages. There are many benefits to getting dental implants with experienced staff at Donahue Dental, including:
Implants are likely to last much longer than other dental fixes
The solution is secure and comfortable
Dental implants look identical to natural teeth
Our experienced staff at Donahue Dental performs dental implants and cosmetic dentistry procedures for patients of all ages.
Mini Implants
If you are looking for a sturdy, aesthetically pleasing, and cost-effective implant solution for your teeth, mini implants may be the perfect answer. Using a miniature implant that is placed in your gum tissue, mini implants work in essentially the same way as regular tooth and roots do. More sturdy and stable than regular dentures, and less expensive and invasive than conventional implants, mini implants are a great solution for people of all ages looking for stable, realistic, and affordable tooth implants.
What Are Mini Implants?
Mini implants function like a regular tooth and root. A miniature titanium alloy implant acts like the root of your tooth and features a retaining fixture that is incorporated into the base of your denture. The head of the implant is spherically shaped, and the retaining fixture acts like a socket with a rubber O-ring. The O-ring snaps over the sphere when the denture is seated and holds the denture firmly in place. When seated, the new denture gently rests on the gum tissue. The implant fixtures allow for a wide range of micro-mobility while withstanding natural lifting forces. Due to mini implants' exceptional micro-mobility, they typically cause significantly less discomfort than conventional implants.
The Procedure
The placement procedure for mini implants is completed quickly and easily by our dental professionals. First, the patient is given a local anesthesia. Then using a controlled, precise, and minimally invasive surgical technique, our dental professionals place mini implants into the patient's jawbone. This provides a strong, solid foundation for securing the new teeth. Because of the minimally invasive nature of the mini implant procedure, recovery time is usually very short, which means that the dentures can be stabilized the same day the mini implants are placed. This means a new smile for you faster than ever.
Donahue Dental: St. Charles' Leader in Dental Implants
Led by Dr. Donahue, a graduate of the University of Missouri's School of Dentistry and recipient of the Distinguished Prosthodontic Student of the Year, our staff at Donahue Dental is dedicated to the comfort and satisfaction of our patients. We've consistently been awarded Top Dentist by St. Louis magazine and proudly offer affordable dental procedures for patients of all ages. Trust your teeth with the team who knows them best, call us today!
To make an appointment with our implant dentistry team at Donahue Dental, give our office a call at 636-946-6117!
We Offer
Digital Charting
Financing Options
Advanced Technology
Comprehensive Oral Care
Advanced Specialty Training
Diagnosis, Treatment Planning
Warm, Relaxed, Fun and Friendly Atmosphere