Dental Crowns and Bridges
Prosthodontist serving St. Charles, St. Peters, and St. Louis, MO
If you've been having trouble with your teeth, whether it's aesthetically or physically, let Donahue Dental help. Dr. Donahue is a licensed prosthodontist in Missouri who practices CEREC dentistry professionally. This means he can put in dental crowns for you, which can fix the problems you're having with your teeth. Crown refers to the restoration of teeth using materials that are fabricated by indirect methods, which are cemented into place. A crown is used to cap or completely cover a tooth.
Some of the benefits and reasons for getting dental crowns include: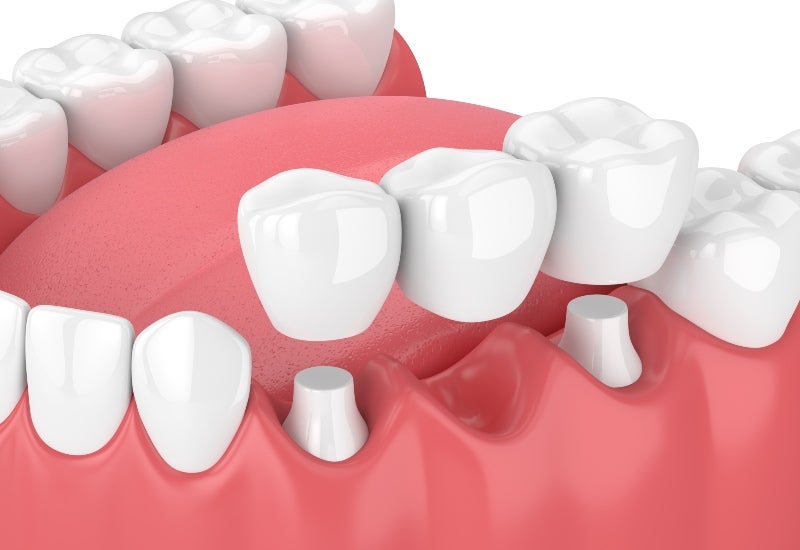 Strengthening teeth
Restoring teeth to their natural shape and size
Covering a dental implant
Protecting a weak tooth from breaking or restoring a broken tooth
A bridge, also known as a fixed partial denture, is a dental restoration used to replace a missing tooth by joining permanently to adjacent teeth or dental implants.
Some of the benefits and reasons for getting dental bridges include:
Restoring your ability to chew and speak properly
Help distribute the force when you bite
Prevent your teeth from drifting
Maintain your face's shape
A bridge can help to restore your smile and help maintain the shape of your face, as well as alleviate the stress in your bite by replacing missing teeth. A bridge replaces missing teeth with artificial teeth, looks great, and literally bridges the gap where one or more teeth may have been. Dental bridges may be necessary to help you look and feel great again. Make an appointment to have an exam by calling us today at 636-946-6117!
A Compassionate Dental Office
If you've always felt scared to visit the dentist because of past experiences with pain and abrasiveness, you'll be relieved to know that you have absolutely nothing to fear. If you're looking for a dentist in St. Charles, Dr. Donahue and his team are dedicated to making every dental experience here a positive one so you can feel right at ease when you walk into our office. We strive to always provide a nurturing and caring environment for you.
Call us now to make an appointment: 636-946-6117
We Offer
Digital Charting
Financing Options
Advanced Technology
Comprehensive Oral Care
Advanced Specialty Training
Diagnosis, Treatment Planning
Warm, Relaxed, Fun and Friendly Atmosphere